Roller ski training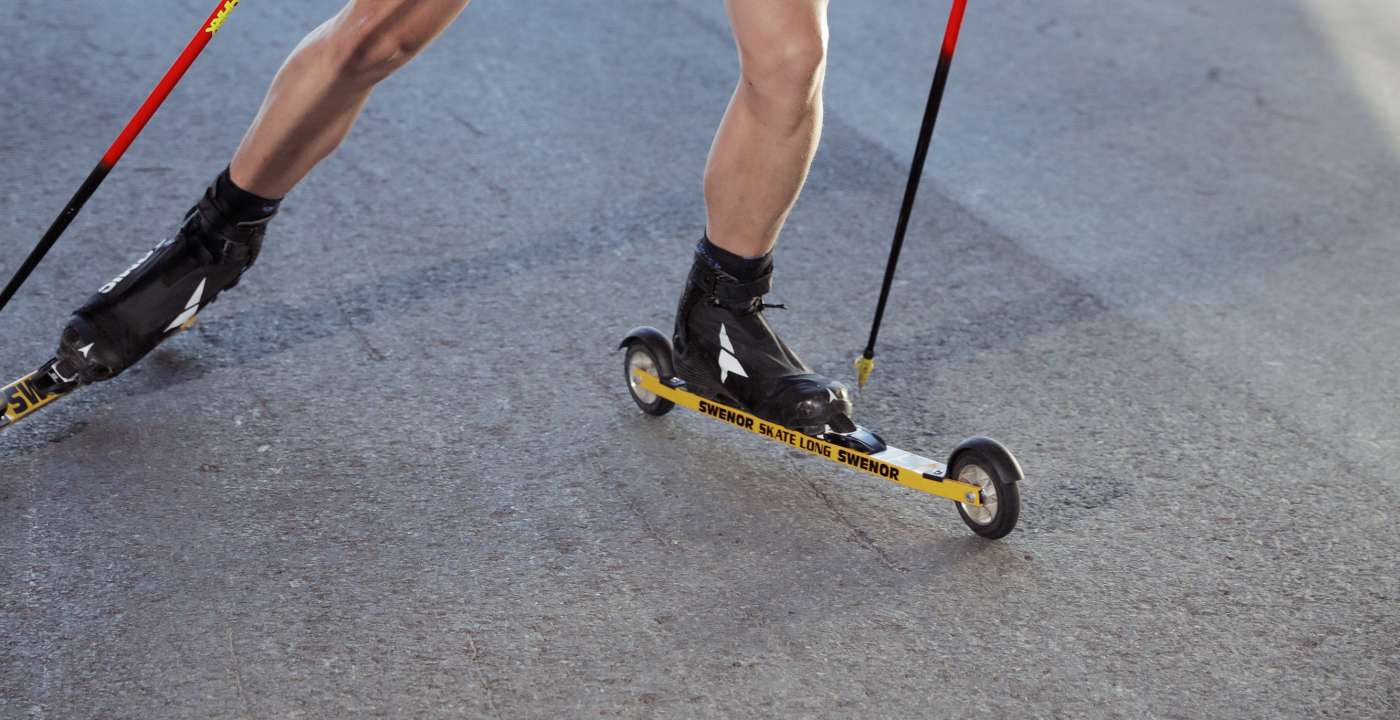 Text: Barbro Sætha  Photo: Swenor
If you are an eager skier, want to move up a notch or two and have not already done so, I would recommend investing in a pair of roller skis.
Roller skis will give you an advantage in the ski track for the winter by allowing you to preserve the feeling of skiing more easily through the bare ground season. It will also contribute to a good variety in the spring, summer, and autumn training, which can make it even more motivating, and you can more easily stay away from strain injuries.
If you are new to roller skis, I would recommend that you start somewhere on a flat stretch without car traffic. Get to know the skis, find your balance and technique. Eventually you can move out on the road or on roller ski slopes.
Focus on technique.
The easy thing about classic roller skis versus cross-country skis is that you have a grip regardless of the kick-off. If you go diagonally on roller skis a lot and are not aware of technique, it is easy to acquire an "easier technique". Be aware of the weight transfer and the correct pressure in the kick-off. Therefore, focus on correct technique also on roller skis. Decide on one task at a time. Quality before quantity.
Roller skiing sessions will also give you good ski-specific strength and it is often easier with double poling. It would therefore be wise to carry out some double poling sessions on a slow uphill.
Like for any new training form, you should have a steady increase in progression. Note that the elbows are particularly exposed with ski poles slamming into the asphalt, so I recommend starting the training gradually and listen to your body.
Use your time wisely
If you have more time for training than usual, I suggest using the time to have some slightly longer trips on roller skis. If Birkebeinerrennet is your target in March 2023, you will have a lot to gain by already having some longer sessions for your endurance.

If you do not have a lot of time at your disposal, you can benefit from training hard with fewer sessions. More specifically, this means if you train around three sessions a week. In any case, it is motivating to have a small plan and purpose for the training session, so here I give you some suggestions for some good sessions during the summer and autumn would be:

Suggestions for training sessions on roller skis
Natural interval: Go for a lap on hilly terrain and increase the intensity uphill.
This can also be completed on a flat trail. Decide in advance when and for how long to accelerate and when to take it easy.
Interval: 7-8 minutes x 3-5 puffs. Pause 2 minutes. The purpose of this is to go up to competition speed for a longer period, but that you still hold back a little. You will have time to focus well on your technique. If you have the same time and speed on all the rounds, you have hit the intensity right. If this goes down during the laps, you have probably started too hard.
Double poling on a slope with longer and gentle incline. Optionally, you can carry out double poling sessions on a slope with shorter steep incline and run down back on your feet during the breaks if you do not want to ski back down.
A session at a comfortably talking pace.
Remember - Safety always comes first.
You must always wear a helmet and be considerate of motorists and other road users when doing sessions on the roads.


Roller ski safety rules
To work out on roads with traffic, you need to be a skilled rollerskier. This is especially relevant for braking and turning.
Children under 15 should practice on bike paths and low traffic roads
Stay on the right side of the road while roller skiing. (Norway)
Only workout in places that you know well, and avoid heavy traffic, dangerous descents, sharp turns and intersections.
Clearly signal when turning or stopping so cars can anticipate your actions.
Always wear reflective and high-visibility clothing.
Always wear a helmet and eye protection.
Avoid listening to music while rollerskiing on active roads as it reduces your ability to hear traffic.
Check equipment before starting a workout.
Follow traffic rule